Geschrieben | März 28, 2010 | No Comments
Often I thought about how a typical learning cycle could look like aiming at interlocking learning and working situations.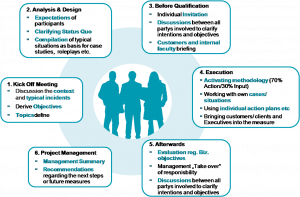 On top it's important to me to differentiate between the three levels following Geary Rummler's "Performance Improvement": Business gaps can be closed looking at the structure, the process or the individual competences of a subject.  That will have an effect upon the later options to interlock learning and working.
BTW the duration of the qualification is not automatically shortened in this case. It's a question of which tools or inputs should be used best before, during, and after a qualification to achieve a long-ranging impact. Of course I have a dream in this respect: Long after the qualification took place everyone would still think about the results, their learnings and apply them day by day. Although the the trainer or coach has long since gone away…
Nevertheless this circle is also applicable when it comes to briefings either with clients or with executives. It could help to show executives where they could support the process of learning and where their responisbilities lies regarding the support of their team and the application of knowledge back home.
Looking forward to feedbacks and recommendation how to improve this circle. I like it, he made things easier for me in the past when I hade the opportunity to explain the necessity of connecting learning and working. To be honest, he became a part of my professional life somehow. After 15 years I think I can say that. 😉
Comments